How to Start Your Own Business Building Small Quality Dog Houses, are you a dog lover with a passion for craftsmanship? Do you dream of turning your love for dogs and your woodworking skills into a profitable venture? If so, you're in the right place. In this comprehensive guide, we'll walk you through the steps of starting a small dog house business and crafting quality dog houses for sale. This small dog house construction guide will serve as your blueprint for entering the world of entrepreneurship in the pet industry.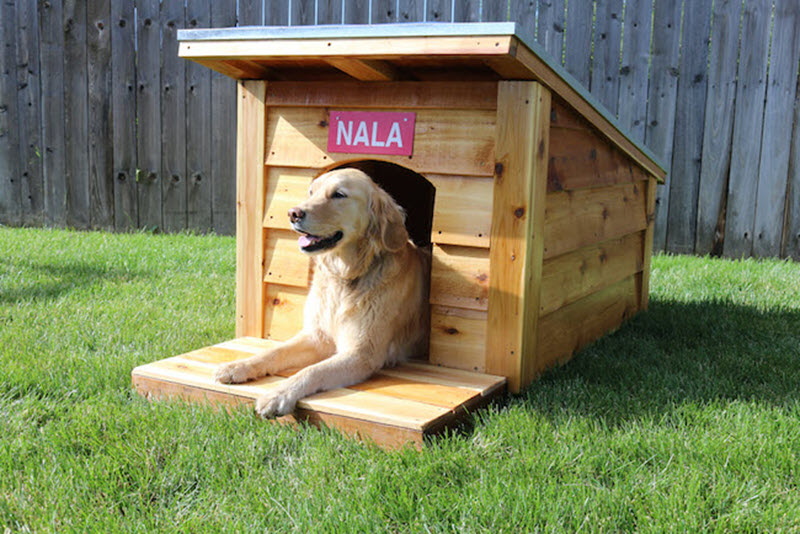 Why a Small Dog House Business?
Before we delve into the nitty-gritty of starting your business, let's address the "why." Why should you consider a small dog house business? Here are a few compelling reasons:
Passion: If you adore dogs and enjoy working with your hands, this business combines your two passions into a fulfilling venture.
Niche Market: The pet industry is thriving, and pet owners are always on the lookout for high-quality, custom-made products for their furry friends.
Profit Potential: Crafting and selling small dog houses can be a profitable endeavor, especially if you can create unique, well-crafted designs.
Flexibility: You can start small and grow your business at your own pace. It's a venture that allows for flexibility in both size and scale.
The Blueprint for Your Small Dog House Business
1. Market Research
Understanding the Pet Industry
Begin by researching the pet industry. Understand the trends, demands, and preferences of pet owners. Look for gaps in the market that your small dog house business can fill.
2. Business Plan
Defining Your Niche
Your business plan should define your niche within the pet industry. Will you focus on eco-friendly dog houses, luxury designs, or budget-friendly options? Your niche will shape your brand and marketing strategy.
3. Legal Considerations
Business Structure and Permits
Decide on your business structure (sole proprietorship, LLC, etc.) and obtain the necessary permits and licenses to operate legally.
4. Supplies and Equipment
Sourcing Materials
Identify suppliers for wood, roofing materials, paint, and any other supplies you'll need for construction. Establish relationships with reliable vendors.
5. Crafting Quality Dog Houses
Design and Prototyping
Create unique and practical designs for your dog houses. Build prototypes to test your designs and make improvements.
6. Pricing and Cost Analysis
Setting Prices
Determine the pricing for your dog houses. Consider the cost of materials, labor, and any overhead expenses. Ensure your prices provide a reasonable profit margin.
7. Branding and Marketing
Creating a Brand
Develop a brand identity that resonates with pet owners. Your brand should convey quality, craftsmanship, and a love for dogs.
8. Online Presence
Website and Social Media
Create a professional website and establish a presence on social media platforms. Use high-quality images of your dog houses to showcase your work.
9. Sales and Distribution
Online Sales Channels
Explore online sales platforms like Etsy, eBay, or your own e-commerce website to sell your dog houses. Consider local craft fairs and pet expos for in-person sales.
10. Customer Service
Customer Satisfaction
Ensure excellent customer service. Respond promptly to inquiries and address any concerns or issues with professionalism.
11. Scaling Your Business
Growth Strategies
As your business grows, consider expanding your product line, hiring additional craftsmen, or exploring new markets.
Challenges and Tips for Success
Starting a small dog house business is exciting, but it comes with its share of challenges. Here are some tips to overcome them:
Quality Matters: The quality of your dog houses is paramount. Craft each one with care and attention to detail.
Marketing: Effective marketing is essential. Leverage social media, blogging, and SEO to reach a wider audience.
Customer Feedback: Listen to customer feedback and use it to improve your designs and customer experience.
Sustainability: Consider eco-friendly materials and practices to appeal to environmentally conscious pet owners.
Competition: Keep an eye on the competition and stay innovative in your designs and marketing.
Conclusion: How to Start Your Own Business Building Small Quality Dog Houses
Starting your own business building small quality dog houses can be a rewarding journey. It combines your passion for dogs with your craftsmanship skills, creating a unique niche in the pet industry. By following this small dog house construction guide, you'll be well on your way to entrepreneurship in the pet industry. Remember, success will come with dedication, quality craftsmanship, and a love for your four-legged customers.